elegant hand-made Mala necklaces & bracelets
Don't resist the ease and allow yourself to be guided by your heart.
Shop Now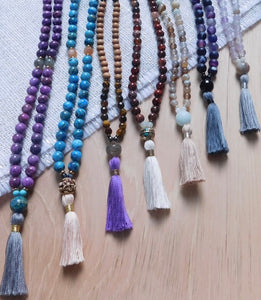 ~ not all those who wander are lost ~
Malas can be held in the palm of your hand or worn around your neck as a reminder of your positive intentions. They also help you to keep count of your mantras. Not into meditation? No biggie! Don't let that intimidate you! Our Mala beads are for everyone, from yogis to fashionistas, from children to grandparents and the like. There's no separation here. They can be simply worn as a unique piece of jewelry. You might find though that your days flow with a little more ease, grace and intention. .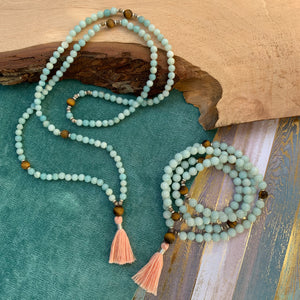 uniquely crafted stretch-cord designs
Each Mala that is carefully strung on stretch cord has its own particular design; made with the highest quality gemstones.
stretch malas
delicate single stone necklaces
Using the most unique natural stones; these necklaces are made with silk thread & a sterling silver clasp.
Gemstone Necklaces